Social Justice Monday: Animal Liberation and the No New Animal Lab Campaign
Social Justice Monday
October 24, 2016
The Access to Justice Institute and the Seattle University Student Animal Legal Defense Fund held a talk titled "Animal Liberation and the No New Animal Lab Campaign."
The Seattle University Student Animal Legal Defense Fund is dedicated to providing a forum for education, advocacy, and scholarship aimed at protecting the lives and advancing the interests of animals through the legal system, and raising the profile of the field of animal law.
Here are some related materials if you are interested in learning more:

The Rise of Critical Animal Studies: From the Margins to the Centre
Edited by:
Nik Taylor
Richard Twine
SU Lemieux Library 5th Floor-Books (QL85.R57 2014)
As the scholarly and interdisciplinary study of human/animal relations becomes crucial to the urgent questions of our time, notably in relation to environmental crisis, this collection explores the inner tensions within the relatively new and broad field of animal studies. This provides a platform for the latest critical thinking on the condition and experience of animals.
The volume is structured around four sections:
engaging theory
doing critical animal studies
critical animal studies and anti-capitalism
contesting the human, liberating the animal: veganism and activism.
The Rise of Critical Animal Studies demonstrates the centrality of the contribution of critical animal studies to vitally important contemporary debates and considers future directions for the field. This edited collection will be useful for students and scholars of sociology, gender studies, psychology, geography, and social work. – From the Publisher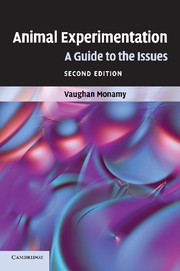 Animal Experimentation: A Guide to the Issues
Vaughan Monamy
SU Lemieux Library 4th Floor-Books (HV4915.M65 2009)
Animal Experimentation is an important book for all those involved in the conduct, teaching, learning, regulation, support or critique of animal-based research. Whilst maintaining the clarity of style that made the first edition so popular, this second edition has been updated to include discussion of genetically modified organisms and associated welfare and ethical issues that surround the breeding programmes in such research.
It also discusses
the origins of vivisection
advances in human and non-human welfare made possible by animal experimentation
principal moral objections to the use of research animals
alternatives to the use of animals in research
regulatory umbrella under which experiments are conducted in Europe, USA, and Australasia.
The book also highlights the future responsibilities of students who will be working with animals, and offers practical advice on experimental design, literature search, consultation with colleagues, and the importance of the on-going search for alternatives. – From the Publisher

Animal Experimentation: Opposing Viewpoints
Helen Cothran
SU Lemieux Library 4th Floor-Books (HV4915.A638 2002)
The use of companion animals such as dogs in medical experiments has intensified the debate about animal testing. Doctors, researchers, and activists argue whether or not animals should be experimented on in the following chapters: Do Animals Have Rights? Is Animal Experimentation Justified? How Should Animal Experimentation Be Conducted? Should Scientists Pursue New Forms of Animal Experimentation?
– From Amazon
If you were unable to attend this presentation, it is available via video recording here: Social Justice Mondays Recordings.
Tags:
Social Justice Monday