Social Justice Monday – Family Defense, Incarcerated Parents, and Fifth Amendment Protections: Avoiding Collateral Consequences of Conviction
Social Justice Monday – Family Defense, Incarcerated Parents, and Fifth Amendment Protections: Avoiding Collateral Consequences of Conviction
March 6, 2017
Parents who are navigating both the child welfare and criminal justice systems are at an increased risk of permanently losing their parental rights. A criminal case often negatively affects a parent's dependency case and vice versa. Dependency cases are nebulous, emotional, complicated, and the law is not often covered in law school. This presentation covered one parent's struggle to be reunited with her children, the social stigma and legal obstacles she faced, and the numerous people who advocate for parents and their children.
Interested in learning more? Check out these resources:
Children of Incarcerated Parents: A Handbook for Researchers and Practitioners
Edited By:
Julie Poehlmann
J. Mark Eddy
Lemieux Library 4th Floor-Books (HV8886.U5 C45 2010)
For the nearly 2 million children in the United States whose parents are in prison, caretaking necessary for optimal development is disrupted. These vulnerable youth—a population that has shot up 80 percent in the last 20 years—are more likely to experience learning difficulties, poor health, and substance abuse, and eventually be incarcerated themselves. Addressing the needs of children with imprisoned parents is urgent from corrections, child welfare, health care, and education perspectives. Children of Incarcerated Parents integrates a diverse literature, pulling together rigorous scholarship from criminology, sociology, law, psychiatry, social work, nursing, psychology, human development, and family studies. Researchers, practitioners, and policymakers will find in this volume here new directions for research and policies that will improve these children's life chances. – From the Publisher

Disrupted Childhoods: Children of Women in Prison
Jane A. Siegel
Lemieux Library 4th Floor-Books (HV8886.U5 S54 2011)
Millions of children in the United States have a parent who is incarcerated and a growing number of these nurturers are mothers. Disrupted Childhoods explores the issues that arise from a mother's confinement and provides first-person accounts of the experiences of children with moms behind bars. Jane A. Siegel offers a perspective that recognizes differences over the long course of a family's interaction with the criminal justice system.
Presenting an unparalleled view into the children's lives both before and after their mothers are imprisoned, this book reveals the many challenges they face from the moment such a critical caregiver is arrested to the time she returns home from prison. Based on interviews with nearly seventy youngsters and their mothers conducted at different points of their parent's involvement in the process, the rich qualitative data of Disrupted Childhoods vividly reveals the lived experiences of prisoners' children, telling their stories in their own words. Siegel places the mother's incarceration in context with other aspects of the youths' experiences, including their family life and social worlds, and provides a unique opportunity to hear the voices of a group that has been largely silent until now. – From Amazon
Parental Incarceration and the Family Psychological and Social Effects of Imprisonment on Children, Parents, and Caregivers
Joyce A. Arditti
Over 2% of U.S.children under the age of 18—more than 1,700,000 children—have a parent in prison. These children experience very real disadvantages when compared to their peers: they tend to experience lower levels of educational success, social exclusion, and even a higher likelihood of their own future incarceration. Meanwhile, their new caregivers have to adjust to their new responsibilities as their lives change overnight, and the incarcerated parents are cut off from their children's development.
Parental Incarceration and the Family brings a family perspective to our understanding of what it means to have so many of our nation's parents in prison. Drawing from the field's most recent research and the author's own fieldwork, Joyce Arditti offers an in-depth look at how incarceration affects entire families: offender parents, children, and care-givers. Through the use of exemplars, anecdotes, and reflections, Joyce Arditti puts a human face on the mass of humanity behind bars, as well as those family members who are affected by a parent's imprisonment. In focusing on offenders as parents, a radically different social policy agenda emerges—one that calls for real reform and that responds to the collective vulnerabilities of the incarcerated and their kin. – From the Publisher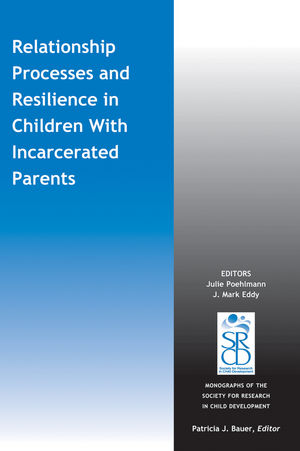 Relationship Processes and Resilience in Children With Incarcerated Parents
Edited By:
Julie Poehlmann
J. M. Eddy
Children with incarcerated parents are at risk for a variety of problematic outcomes, yet research has rarely examined protective factors or resilience processes that might mitigate such risk in this population. In this volume, we present findings from five new studies that focus on child- or family-level resilience processes in children with parents currently or recently incarcerated in jail or prison. In the first study, empathic responding is examined as a protective factor against aggressive peer relations for 210 elementary school age children of incarcerated parents. The second study further examines socially aggressive behaviors with peers, with a focus on teasing and bullying, in a sample of 61 children of incarcerated mothers. Emotion regulation is examined as a possible protective factor. The third study contrasts children's placement with maternal grandmothers versus other caregivers in a sample of 138 mothers incarcerated in a medium security state prison. The relation between a history of positive attachments between mothers and grandmothers and the current cocaregiving alliance are of particular interest. The fourth study examines coparenting communication in depth on the basis of observations of 13 families with young children whose mothers were recently released from jail. Finally, in the fifth study, the proximal impacts of a parent management training intervention on individual functioning and family relationships are investigated in a diverse sample of 359 imprisoned mothers and fathers. Taken together, these studies further our understanding of resilience processes in children of incarcerated parents and their families and set the groundwork for further research on child development and family resilience within the context of parental involvement in the criminal justice system.  – From the Publisher
If you were unable to attend this presentation, it is available via video recording here: Social Justice Mondays Recordings.
Tags:
Social Justice Monday